Marking our biggest appearance of iPad apps on a fair, we developed a bouquet of informative and entertaining interactive brochures featuring the new BMW i car models i3 and i8 on the world's most important car fair IAA in Frankfurt.
BMW asked us to create a special technical concept that allows them to create and publish apps more quickly while still be flexible enough to change the content on short notice when new materials come up. To accomplish this task we connected our brand new backend system meso.io (more info on that available soon) with our Application Publishing Platform (aptly named APP) and our Javascript Framework DRIVE.
The first mission of the apps was to entertain the crowd while waiting for the next presentation of the BMW i electric driven cars. The iPads were mounted in specially designed stands attached to comfortable sofas, which kept lots of people sitting there way after the show was over.
With this special setting in mind we worked closely together with several BMW departments and our friends at yellow design, cologne, responsible for concept and design throughout the technical communication for BMW, to create a highly intuitive user interface that blends very well with attractive photography and interesting animations. The visitor is free to get information of any desired level of detail, quickly or thorough, just as much as his precious time on the fair allows.
The apps will continue to develop and will live on at several international fairs and BMW events throughout 2014, so watch out for more to come.
And we would like to believe that our apps contributed a little bit to the iF design award 2014 that BMW's appearence at the IAA got recently.
One of the BMW iLounge Apps debuting at IAA 2013 revolving around charging EVs.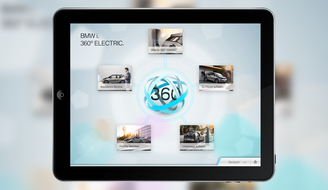 The BMW i Connected Drive App: it's all about connectivity!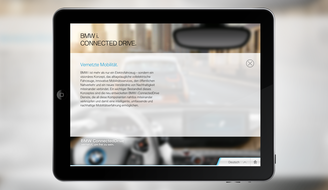 A bird's eye view on the mobility concepts of now and the future.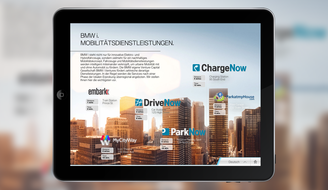 This BMW iLounge App explains the importance of sustainability in car production.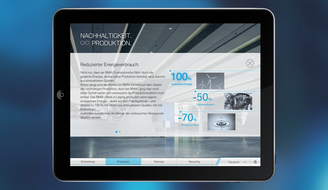 The BMW i8 app – all you ever wanted to know about the new hybrid sports car.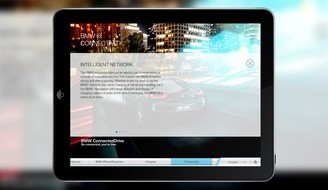 Showcasing the BMW i3 – the benchmark car for all electric vehicles.