The Hessen Film and Media Academy, a network of 13 Hessian Universities, functions as a moderating party between students, professors and external industry partners, for ideas that lead beyond the boundaries of their own institutions, as a catalyst for bringing together interdisciplinary approaches and as a coordinator for their joint projects. Students of all media departments are invited to take part in the hFMA activities, which gives opportunities beyond the possibilities of a single university.
The organization asked MESO Web Scapes to join them in the process of developing a new version of their website, that should be very informative, up-to-date and flexible, while at the same time making clear that the hFMA itself is a network, not an institution in itself.
Together with Designer Katrin Schacke we created a unique visual appearance, largely inspired by the logo and the topic "media", while maintaining a very strict style throughout the largely diverse informations this website offers. News, Events and Projects can all be connected and cross-referenced with each other and the persons organizing the projects. Students can inform themselves about competition deadlines, course qualifications and news from the media scene. Successful projects can be featured and brought to the awareness of the public.
The whole system is driven by an individually created CMS based on the Ruby on Rails framework with maximum flexibility while easily keeping the constraints of the design. The layout is very responsive and adopts to your screen size, offering the best possible reading across all current devices.
For related information see also:
Web development that doesn't hurt, but still enables us to get right where we want to.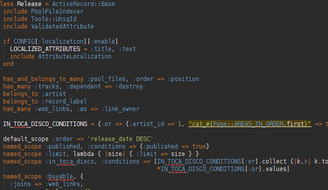 Conception and creation of a visually reduced but detailed web and collaboration system that suits the needs of both the people who work and study there and the ones that don't (yet).